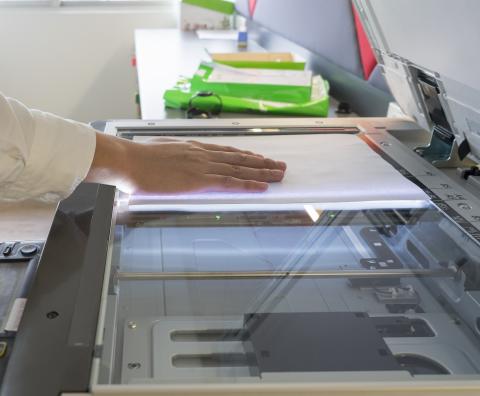 How You Can Benefit from Document Scanning Services
When it comes to document scanning, conversion, and indexing services, Digital Documents, LLC is the industry's leading document scanning company. We provide large-scale, mission-critical services converting documents into digital assets with the highest image quality and coded data available, while meeting the unique requirements of your company or organization.
Our advanced technologies and processes offer quick turnaround, improved access, and secure file retrieval which increases your company's productivity, overall performance, and profit capabilities. Ensuring consistency and minimizing variations is key to our goal of adhering to ISO 9000 procedures, and maintaining the highest industry standards for document scanning services.
Our Ten Stage Services Approach
We facilitate conversion, scanning, and indexing projects through a ten-stage process which is continually improved through verified manufacturing methods to ensure that we meet your organization's tailored project requirements.
Project Requirements: Once we've received a description of your project, our team begins the process of defining the parameters and requirements of your conversion project through our high-quality project tools. A set of sample documents is then created for you and your team to review.
Documents are Received: This stage is comprised of an inventory to carefully log and label the materials you've submitted for conversion, allowing us to secure your documents, and provide easy access should you need to retrieve information while they are in our care.
Preparation and Quality Review Services: Our process allows us to prepare your documents for scanning, yet maintain the natural order of each file. Our preparation team begins by removing staples and bindings, repairing any damage, handling special project requirements, and correcting page orientation as needed. The Quality Lead inspects the prepared files, following our three-step dDQuality Actions review process, ensuring there are no variations in the submitted project, and that all requirements are met.
Software Setup: We tailor the specific requirements for each stage of your project using our dDSpeedScan® software system. Utilizing high-quality, innovative technology ensures accuracy at each level of the project.
File Conversion: Our scanning team focuses on image settings, format requirements, page size, and paper requirements, in addition to special processing requirements such as odd paper sizes, double-sided pages, or colors. All files for your project are scanned using our dDSpeedScan® software to ensure the highest quality image. Once scanned, our Scan Services Quality Lead verifies the accuracy and quality of the scanned files.
Post Conversion: The files are then converted into the required file format, then processed using our image enhancement filters. If required, optical character recognition, or OCR, is performed to enable word search capabilities. Our advanced methods include dDAlgorithm© filters to ensure the best text recognition. The text layout of the page is then recreated using dDLayout© technology, for high-quality search and retrieval accuracy.
File Naming and Coding: In this stage, the scanned and converted files are named, then coded to allow for search and retrieval. Using proper coding software, we capture, review, then name the files based on the requirements of the project. At this point, the Coding Quality Lead conducts a three-stage review of the files to ensure all coding requirements are met and that there are no variations in the process.
Metadata Integration and Management: Utilizing our specialized dDOCP© technologies, all digital files and coded fields are integrated to create a file that behaves as a self-contained database. As a result, the files are accessible from DVDs, CDs, servers, PCs, or your document management system.
Project Deliverable: To complete this stage of the conversion, we store your digital files in a designated and secure location and a project status report is completed. Each stage of our preparation, conversion, naming, integration, and review processes focuses on quality and accuracy, with acute attention to minimize any variations resulting from our process.
Deliverable Sent: In the final stage, we ship the documents to you, and as to your specifications, files are designated as returned, recycled, or certified destroyed. Once you've reviewed the digital files, we will initiate destruction procedures using software that exceeds the secure file procedures recommended by the U.S. Department of Defense, an additional tenet of the ISO 9000 procedures. This process completely removes any trace of your files from our hard drives, to ensure they cannot be retrieved through data recovery utilities.