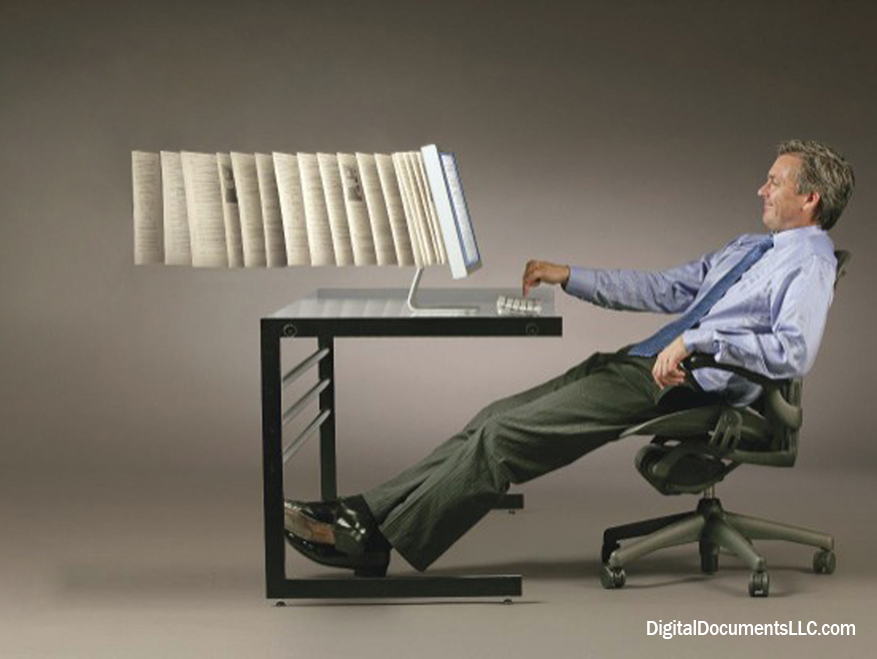 Document Management Cost Analysis
We perform complimentary Document Management Cost Analysis for our Clients to illustrate the potential value of digitizing critical documents. This Analysis is based on a review of existing document management processes. Our extensive experience allows us to quickly assist organizations in identifying productivity, performance and profit impediments. A paper-based document management cost analysis is not an activity typically conducted by organizations yet; such an analysis can be very revealing. Through this analytical approach, we have been able to identify millions of dollars in productivity savings and performance increases for our clients.
Document Management Cost Analysis Benefits
Gain a clear understanding of the cost of paper management
Define the productivity impact of:

Searching for Retrieving & Returning Documents
Reviewing, Indexing & Storing Documents
Searching for Lost Documents
Time Spent Copying

Discover the hidden cost of:

Duplicate Copies of Documents
Usable Space Taken by File Cabinets
Off-Site Storage Fees
Annual File System Expenses
Our Team will conduct this analysis for your organization. To start all we need is 15 to 20 minutes of your time. Once complete, the cost of your organization's paper based document management system will be presented in a detailed report.
Business Case Return-On-Investment Analysis
Labor intensive and deficient document management processes create obstacles our clients experience and verbalize in such statements as:
"We spend way too much time looking for documents."
"We have to produce certain documents for …"
"We have run out of on-site storage space!"
"We want to improve our customer service."
"We want to reduce our document management expenses."
"We need a disaster recovery solution for our original docs."
"We want to maximize our investment in software and hardware."
Organizations depend on information to remain efficient and competitive; information that is timely, accurate and usable. The Business Case ROI Analysis we perform for clients pinpoints resource allocation inefficiencies in a revealing and compelling way. This analysis specifies the value of redesigning paper based document management processes, affording our clients tangible benefits that can reduce their total document management expense and increase profits. In fact, our clients realize a Return On Investment in less than twelve months.
Document Management ROI Analysis Benefits
Gain a clear understanding of the value of digital document management Discover achievable performance improvements in:
Information Search & Retrieval
Document Security & Storage
Business Workflow Processes
Technology Utilization
Our Team is engaged to develop this analysis for your organization. We define and quantify actionable improvements that align with your business goals to deliver substantial productivity, performance and profit enhancements. Through the design of a custom analysis, we identify productivity savings and performance increases in the following areas:
Costs
Cycle Time
Capital Requirements