The Digital Documents Scanning Services Overview
Digital Documents, LLC was founded in 2001 to support organizations that face Mission Critical document management issues and challenges in their desire to go paperless. Since then, we have grown into a leading document scanning services company that provides the Highest Quality Document Conversion Services, enabling our clients to successfully unlock the true value of the information contained in their files, resulting in increased productivity, performance and profits. Our Clients realize tangible benefits that reduce their total document management expense and increase profits by optimizing their business processes as a result of removing the inefficiencies inherent in their traditional paper based approach.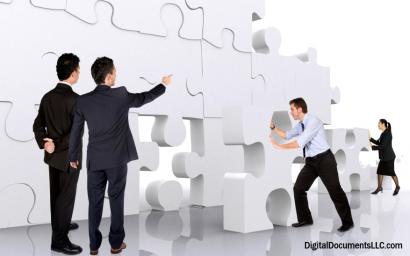 Our expert team serves as Business Process Outsourcing (BPO) partners to organizations that need a more cost effective approach to managing large-scale critical document collections. Our management team has over 30 years of experience successfully designing and implementing paperless office solutions, and managing file conversions for Public and Private companies in industries ranging from Financial Services to Products, and verticals ranging from Accounts Payable to Legal.
We know that the key to the success of any paperless office project is starting with the end goal in mind, then employing proven technology solutions and conversion methods (of which scanning can be just one stage in the entire process). In addition, the successful deployment of a Document Management Services Project requires a clear understanding of an organization's People, Process, and Technology goals.
Our Core Competencies
Our capabilities ensure that clients gain value from their critical files at every point in the document management life cycle.
Requirements Analysis
How should our information be accessed, shared and stored?
Document Strategy
How do we align our document strategy to our business goals?
Business Case
How can we justify the project costs and define the return-on-investment?
Project Approach
What are the optimal people, process and technology implementation strategies?
Document Management Services
What service and technology mix is required to meet the user, department, and company needs?
Outsourcing Services
What document scanning services and day-forward assistance will be required?
Project Implementation
What approach will enable a successful paperless office project?
Optimization Support
How can the company optimize the value of its infrastructure and technology investments?