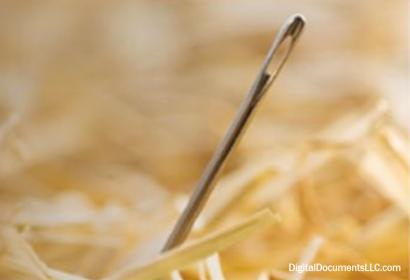 Document Management Services and Solutions
Our Document Management Services and Solutions free information trapped on the printed page, transforming it into usable content. Our solutions, coupled with our proven project implementation methods, deliver on the promise of enabling on-demand information access and the goal of a paperless office. From complete document imaging services and packaged solutions to our dDSpeedScan technologies, we have the capability to construct the right offering for your company's mission critical documents. Built utilizing leading components that comply with industry standards, our services and solutions are reliable, maintainable, and scalable to meet your business needs. In addition, our document imaging services provide your company with added security in the event of physical damage, server failure or computer virus, because we create a Digital Disaster Recovery Solution™ for each client. Through our tailored approach, we enable clients to better serve their customers by creating services that address today's fast pace demand for just-in-time information.
In addition, our Clients realize tangible benefits that reduce their total document management expense and increase profits by optimizing their business processes. These benefits typically equate to a rapid Return On Investment. This accelerated return is achieved, in part, by implementing solutions that enable employees to focus on the job-at-hand, as compared to traditional paper-based document management systems which are extremely labor intensive and deficient. The benefits of having critical documents as digital files are significant and directly impact performance and profits.
Document Management Services Include
Document Imaging Services
Platform Independent File Search & Retrieval

Scan Documents to be Accesses via Secure File Serves
Define Service Level Agreement Based on Business Needs
Ensure Integration with Document and Data Software Applications
Goal: Secure access to critical documents across operating platforms to enable multiple and simultaneous users access to files
Tailored Solution Design & Development
Tailored Business Solutions

Define Business Need to Convert Documents
Design Prototype to Address Business Requirements
Develop Solution to Perform Features and Functions
Goal: Create unique solution to enable business processes and procedures and enhance productivity
Document Management Systems
Document Imaging Search and Retrieval Solutions

Search (Boolean, Exact & Fuzzy Methods)
Access (Secure Certificate of Authentication Controls)
Retrieve (Document Library Indexing)
Goal: Create the optimal solution based on specific business needs to securely access information on demand