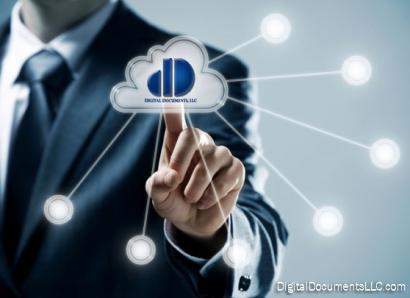 Cloud Hosted Document Management
What's your document management strategy? For most companies, it's about empowering employees to securely find what they need, when they need it, enabling them to perform their jobs efficiently. In-house storage and management is one way to achieve this end result — but it can quickly ramp up in scope, time investment and cost. At Digital Documents we've developed dDSecureSearch, a secure private cloud based hosted document management solution to empower your Teams to meet their goals. We have some the most advanced cloud hosting solutions in Washington, DC.
Here's How:
Defining Scope
Not all documents belong in the cloud; some just aren't cloud ready and some documents should stay on local servers. That's why we offer a Physical to Virtual System Analysis and Assessment with every cloud offering, providing a clear roadmap to a successful cloud migration. Our experts start by identifying cloud-ready content, determining your Team's performance objectives and then defining it recovery point and time objectives. This allows us to tailor our cloud hosted solution to your organization's unique security, recovery and access needs.
Maximizing Success
Next is migration — documents are ported to our secure cloud search offering. At the same time, your existing document workflow is assessed and digitized as necessary to support on-demand and scalability information access. Depending on your needs, it's also possible to build a new virtual infrastructure, which may better support long-term ROI. Finally, core documents are migrated to the cloud offering and your team is provided with secure access and user reports to manage the your new cloud deployment.
In addition, all of our cloud services are tailored built to align with your IT department's policies regarding information management, compliance and security. This is critical as companies face increasing demands from federal and industry-governing bodies to meet compliance and security regulations including the secure storage of documents, auditable trails of access and action, and the ability to retrieve documents — especially those which contain personally identifiable information (PII) — upon request and without delay.
Empowering Search
What about cloud based document management? Our dDSecureSearch services allow your Team to searchable the entire library of files, empowering users to find what they're looking for based on a single word or phrase. Both past and present documents can be searched in real time, allowing employees to easily find that "needle in the haystack", supporting C-Suite needs to quickly respond in the event of compliance requests. Simply put, our private cloud offering addresses the problem faced by many local server stacks: limited secure search capability. Rather than struggling to improve search in house, save local computing power for mission-critical tasks and let Digital Documents implement a robust, searchable and secure cloud environment for your Team.
Secure cloud hosting empowers your company to do more by elevating the resource burden on your IT Team. Combined with our best-in-class document management solutions, dDSecureSearch can improve performance, increase productivity and ultimately boost profits.