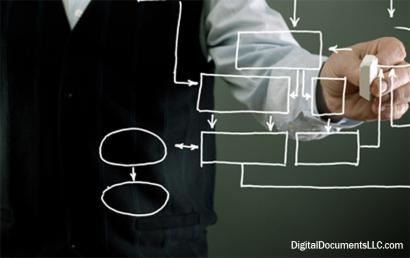 Document Scanning Project Approach
Our expert team serves as Outsourcing Partners and Solution Providers to companies that have critical document scanning and imaging projects. Our Management Team has over 30 years of experience successfully designing and implementing document solutions, and managing file conversions of billions of pieces of information for Fortune 500 companies in a variety of industries and market verticals.
The key to a successful project is starting with the end deliverable in mind, then employing proven technology solutions and conversion methods (of which scanning can be just one stage in the entire process). Successful document management requires a clear understanding of an organization's Document Strategy, its People, Process, and Technology Requirements, and the optimal Implementation Approach.
We work with your organization to conduct a Document Management Project Plan that identifies the answers to the following questions:
When will your organization begin the project?
Has a Business Case been conducted for this project?
Has a Document Strategy been defined for the organization?
Has a Project Sponsor, Change Agent and Project Team been identified?
What document intensive process will be the focus of the project? (Brokerage Transactions, Accounts Receivable, Accounts Payable, Loan Applications, Title Insurance Records, HR Files Medical Records, Client Files, Patient Charts, Project Deliverables, etc.)
What is the volume of pages to convert digitally? (We will estimate this based on the number of file cabinet drawers and the number of boxes to be digitally converted, and by sampling the contents of the files.)
Proven Project Methodology
Does your company have a project implementation methodology? (Our proven Project Methodology and Ten Stage Approach enables rapid deployment of our dDSpeedScan© Document Conversion Services.)

Document Preparation (Steps include: Log, Prepare & Unitize Files)
Document Scanning (Steps Include: Image, Convert & OCR Files)
Document Coding (Steps Include: Code Field Search & Retrieval Data)
Document Indexing (Steps Include : Embed Coded Data into Files & Metadata)
In addition to the approach above, we define the project timeline, approval processes and the reporting requirements that ensure successful communication and project management.
Risk Mitigation Approach
We have designed an approach that minimizes the risk inherent in large scale projects. Our goal is to serve your organization's needs as efficiently and effectively as possible to maximize the benefits of such an project. To accomplish this we focus on the following: