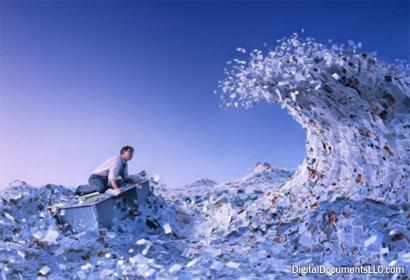 Document Scanning and Conversion Outsourcing Services
Many of our clients are inundated with paper documents. These documents are stored in filing cabinets, offices, storage facilities, on top of filing cabinets and in every other available square foot of space.
Sound Familiar?
We know that the need to access these critical documents at a moments notice is the primary reason for keeping them on-site. However, at a certain point, the volume of documents needed on-sight creates inefficiencies that actually impede productivity and require significant annual expense.
Public and Private organizations, in a variety of industries and market verticals, benefit from our Document Scanning Outsourcing Services.
To be competitive, these organizations need efficient document management processes that can capture, archive, search and retrieve information from a variety of sources across the organization. Furthermore, these organizations depend on information to remain efficient and effective -- information that is timely, accurate and usable. When critical information is trapped inside folders, on paper or in faxes, productivity, performance and profits are dramatically impacted increasing the cost of business.
Utilizing our services, organizations can quickly convert information into digital assets for employees to securely access and use, reduces operating costs and provides the Return-On-Investment sought in today's economy.
Digital Documents' Offerings
Document Scanning & Imaging Services
Description: Professionally equipped to manage your document scanning and imaging needs, we offer services that allow you to allocate resources efficiently while staying focused on your core business.
Cost & Return-On-Investment Analysis
Description: Information is the currency of business yet, antiquated document management processes can impact productivity, performance and profits. Our analysis pinpoints resource allocation inefficiencies and quantifies actionable improvements that align with your organization's goals, to deliver tangible benefits.
Document Management Solutions
Description: Based on your organization's document management goals and requirements, we can select the right Document Management Solution for your business. From complete solutions and packaged services to off-the-shelf products, we have the capability to define the optimal solution for your organization built on industry standards.